FEATURES & BENEFITS
THE ONES YOU LOVE ARE JUST A CLICK AWAY!
THE LAST COMPUTER SENIORS WILL EVER NEED!
MyGait is the failure-free, worry-free computer designed just for seniors. Just plug it in and you're ready to go! You can email, send photos, search the web, shop online, and stream free music and movies. The GO Computer by MyGait does everything a costly complicated computer does, but it can be mastered in minutes! MyGait will send you a computer to try RISK-FREE for 60 days! There's nothing to lose!
1-855-916-5047

SENIOR FRIENDLY PAYMENT PLAN!
*with $24.95 monthly worry-free VIP Family Support
Plug it in and GO!
The GO Computer by MyGait is designed for seniors; powerful, but so easy to use; you just plug it in and GO! MyGait, the industry leader in senior computing, has a senior-friendly design, free software, and lifetime support!
The oversized color-coded keyboard, large easy to read text, and ease of use make it quick for seniors to master!
Easy to use!
No software to buy!
The GO Computer by MyGait goes from out-of-box to setup in just 15 minutes, plus:
▶️ You'll never need to buy, install, or update software.
▶️ You'll never need to buy another computer; LIFETIME replacement on all hardware!
▶️ MyGait knows seniors. We have senior friendly payment plans available.
Computer experts by your side!
Call or click to get unlimited support to solve problems, update software, and to get remote help.

MyGait experts guide you on your screen!

Computer experts are a click or call way to solve ANY problems!
Tailored to your needs!
Even if you spend most of your time at home, The GO Computer by MyGait allows you to reach out and be a part of the online community. With MyGait, you are never alone thanks to our worry-free customer service that is always available to help you! We've got you taken care of!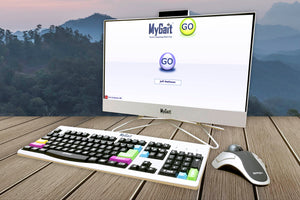 ▶️ Join other seniors on Facebook and stay up-to-date on all news and activities from family and friends.

▶️ Read news, sports, and weather anytime you want.

▶️ Shop online and have products you want or need delivered right to your door.

▶️ Create letters, notes, and text documents with the built in word processor.

▶️ Share your favorite recipes or find new ones to try.

▶️ Participate in online senior community programs.

▶️ Play AARP games online with real people.

▶️ Email and message through providers such as Facebook Messenger, Gmail, Yahoo, or your personalized @MyGait.com email account.

▶️ Make dinner reservations or travel arrangements.

▶️ Watch videos.
MyGait will open up a new universe of people and places you can connect with!
The GO Computer by MyGait